An apple a day…
First of all there's a big word looming in the fortified world we have to tackle straight away. It might be a bit of a misnomer or misconception painted in dubious colour of inferior quality: "mistelle". What is it all about and why the Uncle Doctor was always right?!
In short, mistelle is nothing else but unfermented must/fruit juice, that gets boosted up by the addition of high proof alcohol. Additionally it's also possible to partially ferment the grape-, apple- or whatever-the-fruit-garden-may-give-you liquid and work on from there.
Mistelle could be an ingredient in the making of fortified wines like Sherry, Marsala and their colleagues, or bottled, labeled and enjoyed as a stand-alone product.
Needless to say that the quality relies heavily on perfect raw material, impeccable booze and only the very best fruit.
"Chances are you haven't heard of Pommeau ever before and still wonder why the heck this little Austrian fortified freak is still going on about apples and bees"
Adding strong alcoholic components to the must prevents it from fermentation, all the sugar remains as residual sweetness in the final mixture since it's not converted into alcohol by yeast activity.
After initially pairing off the virgin fruit sludge and muscle packed spirit, the results are quite harsh and unpleasant. Good things take time and mistelle is no exception, no matter if that means resting in stainless steel or even longer intended maturation in wooden casks.
The southern countries are full of traditional beverages following that century old habit, wearing different names and coming from various progeny.
One stellar example of mistelle-greatness is Pommeau from northern France. Arising from the Norman apple culture and most likely coming from Normandie, Brittany or Maine (Pays de la Loire), Pommeau is a carefully blended mélange of partially fermented apple must with young Calvados or "Lambig" if you find yourself between the Bay of Biscay and the English Channel.
Cidre apples build a strong basis with their four distinctively individual characteristics:
-"sweet" mellow, luscious and generally low in acidity as well as tannins.
-"sharp" high acidity but mild tannins giving oomph and backbone to the product.
-"bittersweet" a certain astringency is mandatory in typical Cidre, coming from high tannin content in certain varieties without too much acidity.
-"bittersharp" as the name suggests here you get the bomb load of acidity and tannins all in one.
A fine balancing act is crucial in crafting high quality Cidre and of course this applies to Pommeau as well.
Sometime along the historical side line, producers started to combine only the most fruit driven and tasty "jus de pommes à cidre" with "eau-de-vie de cidre" in order to keep their deliciousness throughout the year. The operation called "mutage" became a closely kept family secret and mystical yet fascinating practice.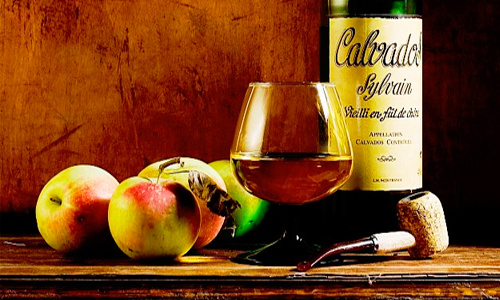 The 1970s saw a first little fortified boom focusing on quality and elaborate output but it wasn't until 1981 that legal circumstances made it possible to commercialize "Pommeau". "L'Association Nationale Interprofessionnelle des Producteurs de Pommeau (ANIPP)" was launched by fifteen visionaries, producing roughly 12.000 bouteilles a year. Shortly afterwards that number reached 150.000.
Ten years later an AOC was granted, regulating origin, production method and other legal issues. The Calvados for fortification needs to be at least one year old and at 65% vol alc. Pommeau finally needs to have between 16-22% vol alc and a minimum age of 14 months.
Pommeau de Normandie was the first official AOC product and even though the majority of bottles is still consumed locally, around sixty manufacturers claim to sell 700.000 bouteilles annually. The year 1997 saw Pommeau de Bretagne joining in the chorus, even though the numbers sound a little more down to earth (150.000 bottles by a dozen producers).
Finally in 2009 the new kid on the AOC block was made official. Only seven growers are combined under that boozy umbrella accounting for 20.000 bottles of fortified apple-iciousness "Pommeau du Maine". And yes, this is not about lobster or any other east coast US fancy magic – we're talking French.
Chances are you haven't heard of Pommeau ever before and still wonder why the heck this little Austrian fortified freak is still going on about apples and bees. Get a hand on a decent bottle of the stuff, crack it open and you'll have all the answers right at hand.
Most people recommend drinking it neat, chilled, as an aperitif or desert pairing –but let your trusty bartender go wild and the results will be impeccable. It's up to you, ladies and gentlemen, cause what was ye ol' Doc saying? An apple a day…
ΑΦΗΣΤΕ ΤΟ ΣΧΟΛΙΟ ΣΑΣ