The new golden age of sherry?
-I'll have a glass of Fino En Rama, please…
-Seriously?
Some people still think of the 1970's and 80's to be sherry's glorious era, sales volumes were up there and running, the old liqueur glass always at hand, a rather ubiquitous bottle of fortified stuff somewhere in the back of the cupboard.
But honestly, it wasn't that glamorous at all, the image and general appreciation not quite as good as it seemed and the demand met by inferior products, simply providing quantity instead of quality. Overproduction was the call of the day and if there was one aspect to be neglected along the way, it certainly would have been the integrity of what went into the bottle.
At the end of 2014, sherry is still in the middle of a global recession with sales volumes going down. And if you ask a generation X youngster about sherry, he might come up with the stereotype of old grannies, slowly drifting into agony early afternoon, sipping on a fusty Cream-somewhat with enough sugar to compete with your diabetes.
"It was in the United States, that "Professor" Jerry Thomas and Harry Johnson served Sherry Cobblers like we do Aperol Spritz today"
Well, yes, we all love our clichés and misconceptions and the spirits world and drinks industry –like everything else- is just full of it. But would you consider it appropriate for the enjoyment of what is actually a damn fine wine? Most certainly not…
Slowly but steadily a new generation of sherry drinkers evolves, totally contrasting long overdue stereotypes and old school manor. Bartenders are rediscovering the former star of the bar stock, old recipes and the knowledge of their predecessors behind the stick.
The United Kingdom is still one of the most important markets for Andalucía's wines but even there an entirely new appreciation is spreading out. Instead of easy, sweet mass products and old ladies, there are youngsters and hipsters sipping on a glass of bone dry En Rama to perfectly accompany their tapas or little olives and jamon nibbles.
It was in the United States, that "Professor" Jerry Thomas and Harry Johnson served Sherry Cobblers like we do Aperol Spritz today. It were those gentlemen and their fellows to consider sherry a main staple in every good household, every well equipped wine collection and every bar backboard (oh, by the way, put it in the fridge, please, it's still –after all– a wine!). And it's the new generation of ambitious professionals and their sensory talent which puts Fino, Amontillado or Pedro Ximenez back on the menus and into the shakers.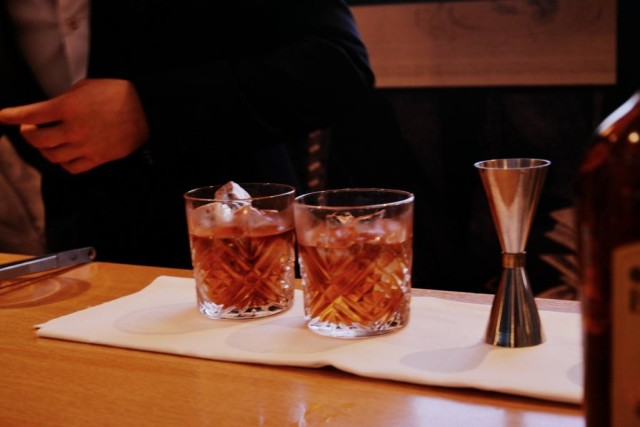 Since the US is not as biased as their close UK relatives in good old Europe, people are not automatically bemused when somebody drops the "Sh* word"… Along with a gastronomic trend similar to London, Tapas bars, food sharing concepts and a rediscovery of Spanish eating pleasure, sherry is now fashionable and trendy again. You might even come out "fancy" for ordering a dry, crisp Fino rather than just "a glass of some white wine".
Even though more traditional markets with even more traditional drinking habits take a moderate approach to changing their practices (Germany or Netherlands anybody?), there's a glimpse of hope here as well. Whether in the Mediterranean or the GSA countries, up north or in Down Under, sherry is gaining a momentum, old classic drinks and new libations featuring vinos generosos are in full swing. And suddenly the private connoisseurs take another look at the wines again, in restaurants, cafés or even at home.
Let's not get overexcited, there's still a long way to go and we're far away from booming times or an appropriate image when it comes to fortified treasures. But we rather tend to consider our glass half full instead of resigning ourselves to the inexorable downfall of Oloroso and Co.!
Drink your sherry and simply enjoy it!
All photos by Venthesikymi Soukouli
ΑΦΗΣΤΕ ΤΟ ΣΧΟΛΙΟ ΣΑΣ